Billion Bacteria by Aquatic Remedies Bacfloc 50g - Probiotic For BioFloc
Regular price
Rs. 550.00
Sale price
Rs. 450.00
Unit price
per
Sale
Sold out
Share
5% OFF For Your First Orders. Use code "FIRST5"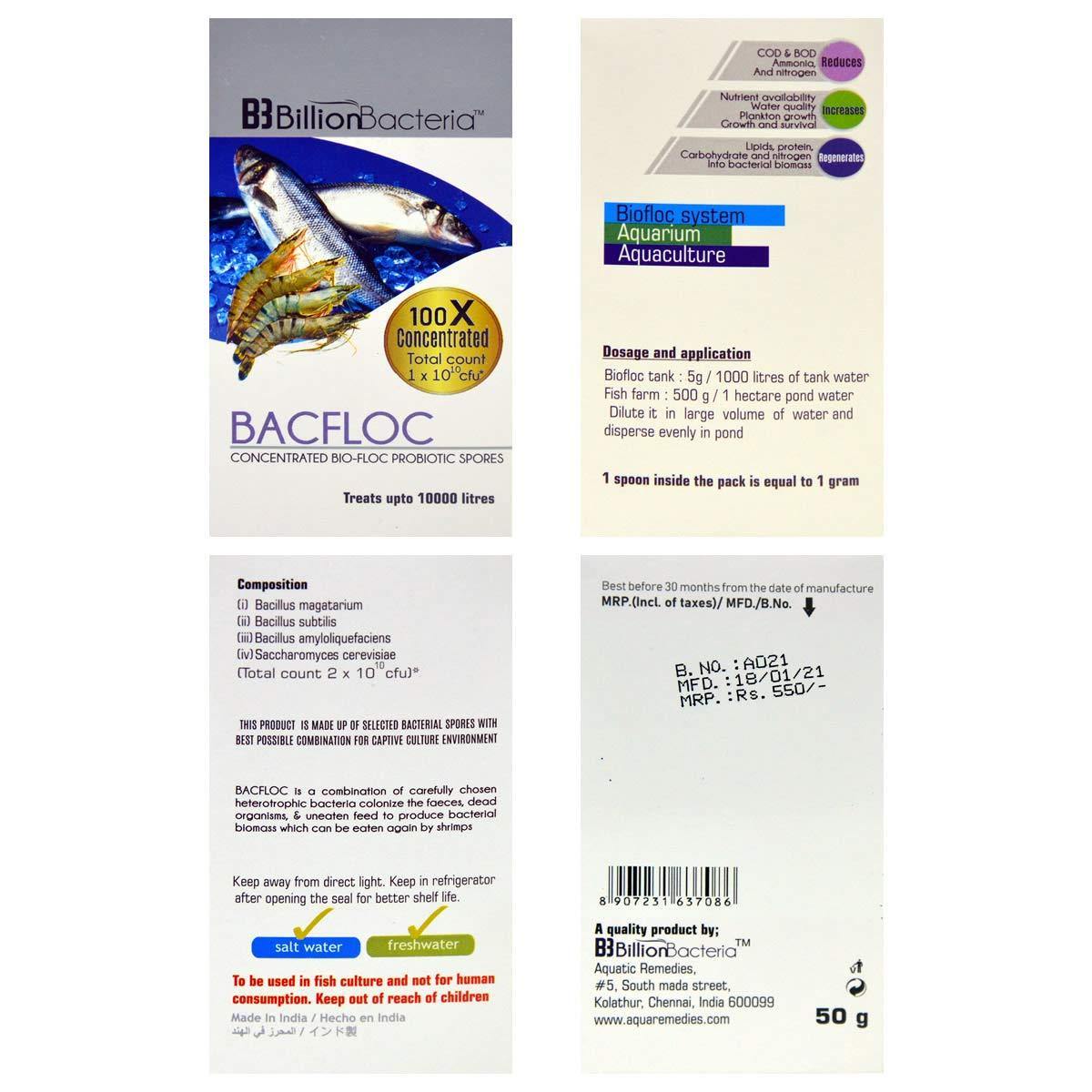 100% Safe & Secure Payments
Authenticity Guaranteed
Fast & Free Shipping All Over India
Description
Product description
Billion Bacteria By Aquatic Remedies Bacfloc 50g

CONCENTRATED BIO-FLOC PROBIOTIC SPORES - Treats upto 10000 Liters

THIS PRODUCT IS MACE UP OF SELECTED BACTERIAL SPORES WITH BEST POSSIBLE COMBINATION FOR CAPTIVE CEILIURE ENVIRONMENT.

Composition
Bacillus magatarium
Bacillus subtilis
Bacillus amyloliquefaciens
Saccharomyces cerevisiae
BACFLOC is a combination of carefully chosen heterotrophic bacteria colonize the faeces, dead organisms & uneaten feed to produce bacterial biomass which can be eaten again by shrimps.
Perfect For Freshwater & saltwater
Reduces COD & BOD Ammonia And Nitrogen
Increases Nutrient availability Water quality
Increases Plankton growth and survival
Regenerates Lipids, protein, Carbohydrate and nitrogen Into bacterial biomass
Dosage and application :-
Biofloc tank :- 5g / 1000 liters of tank water
Fish farm : 500 g / 1 hectare pond water
Dilute it in large volume of water and disperse evenly in pond.
1 spoon inside the pack is equal to 1 gram.
Keep away from direct light. Keep in refrigerator after opening the seal for better shelf life.To be used in fish culture and not for human consumption. Keep out of reach of children.