Billion Bacteria by Aquatic Remedies Micro Life XS2 140ml | Aquarium Beneficial Bacteria
Regular price
Rs. 550.00
Sale price
Rs. 450.00
Unit price
per
Sale
Sold out
Share
5% OFF For Your First Orders. Use code "FIRST5"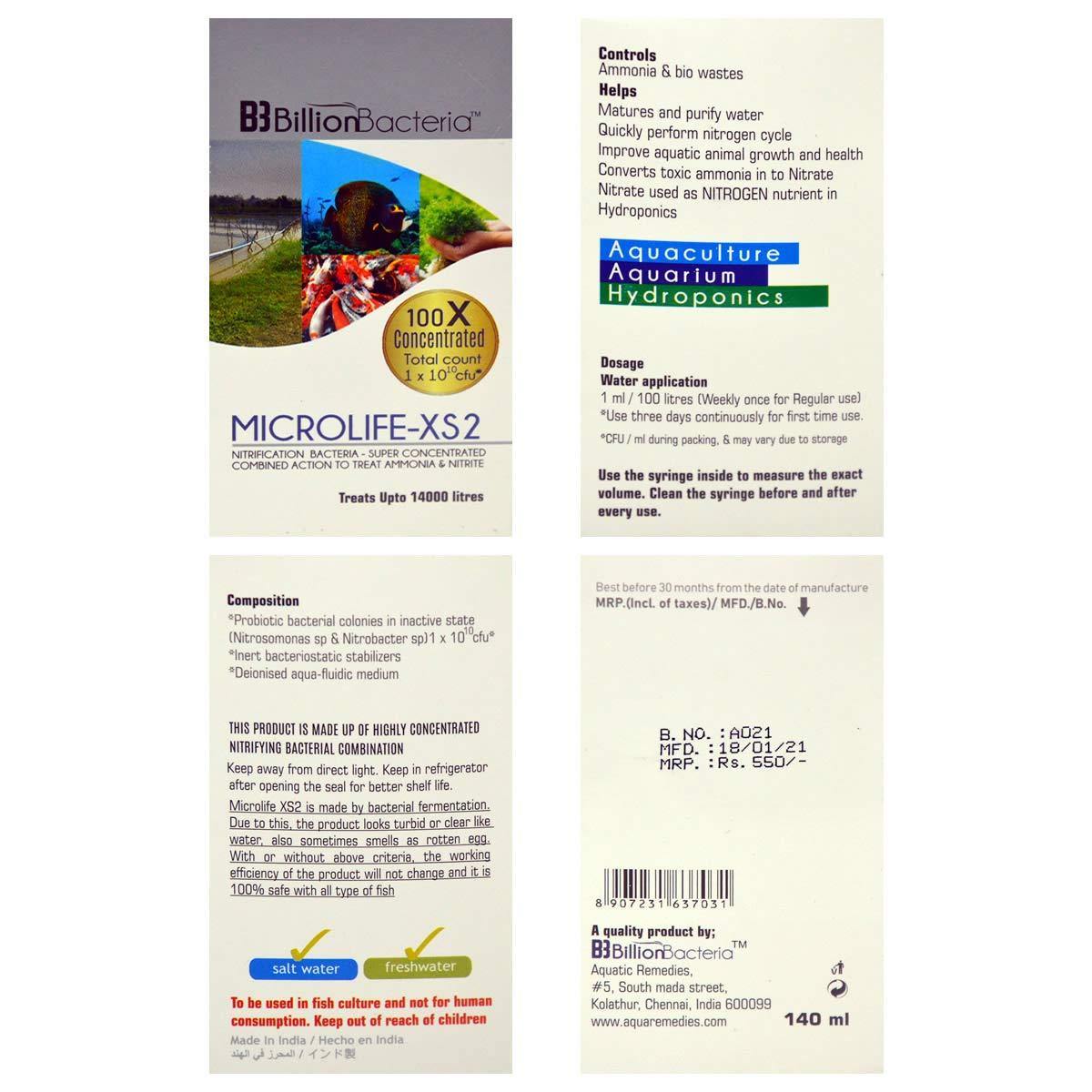 100% Safe & Secure Payments
Authenticity Guaranteed
Fast & Free Shipping All Over India
Description
Product description
Billion Bacteria By Aquatic Remedies Micro Life XS2 140ml

NITRIFICATION BACTERIA - SUPER CONCENTRATED COMBINED ACTION TO TREAT AMMONIA & NITRITE - Treats Up to 14000 Liters

Controls
Ammonia & bio wastes
Helps
Matures and purify water
Quickly perform nitrogen cycle
Improve aquatic animal growth and health
Converts toxic ammonia in to Nitrate
Nitrate used as NITROGEN nutrient in Hydroponics
Perfect for saltwater & freshwater
Dosage
Water application

 

:- 1 ml / 100 Liters (Weekly once for Regular use)
Use three days continuously for first time use.
CFU / ml during packing, & may vary due to storage
Use the syringe inside to measure the exact volume. Clean the syringe before and after every use.Composition
Probiotic bacterial colonies in inactive state (Nitrosomonas sp & Nitrobacter sp)
Inert bacteriostatic stabilizers
Deionised aqua-fluidic medium
THIS PRODUCT IS MADE UP OF HIGHLY CONCENTRATED NITRIFYING BACTERIAL COMBINATIONKeep away from direct light. Keep in refrigerator after opening the seal for better shelf life.
Microlife XS2 is made by bacterial fermentation. Due to this. the product looks turbid or clear like water, also sometimes Smells like rotten egg. With or without above Criteria, the working efficiency of the product will not change and it is 100% safe with all type of fish.
To be used in fish culture and not for human consumption. Keep out of reach of children.