Billion Bacteria by Aquatic Remedies Trig Care 50g
Regular price
Rs. 650.00
Sale price
Rs. 499.00
Unit price
per
Sale
Sold out
Share
5% OFF For Your First Orders. Use code "FIRST5"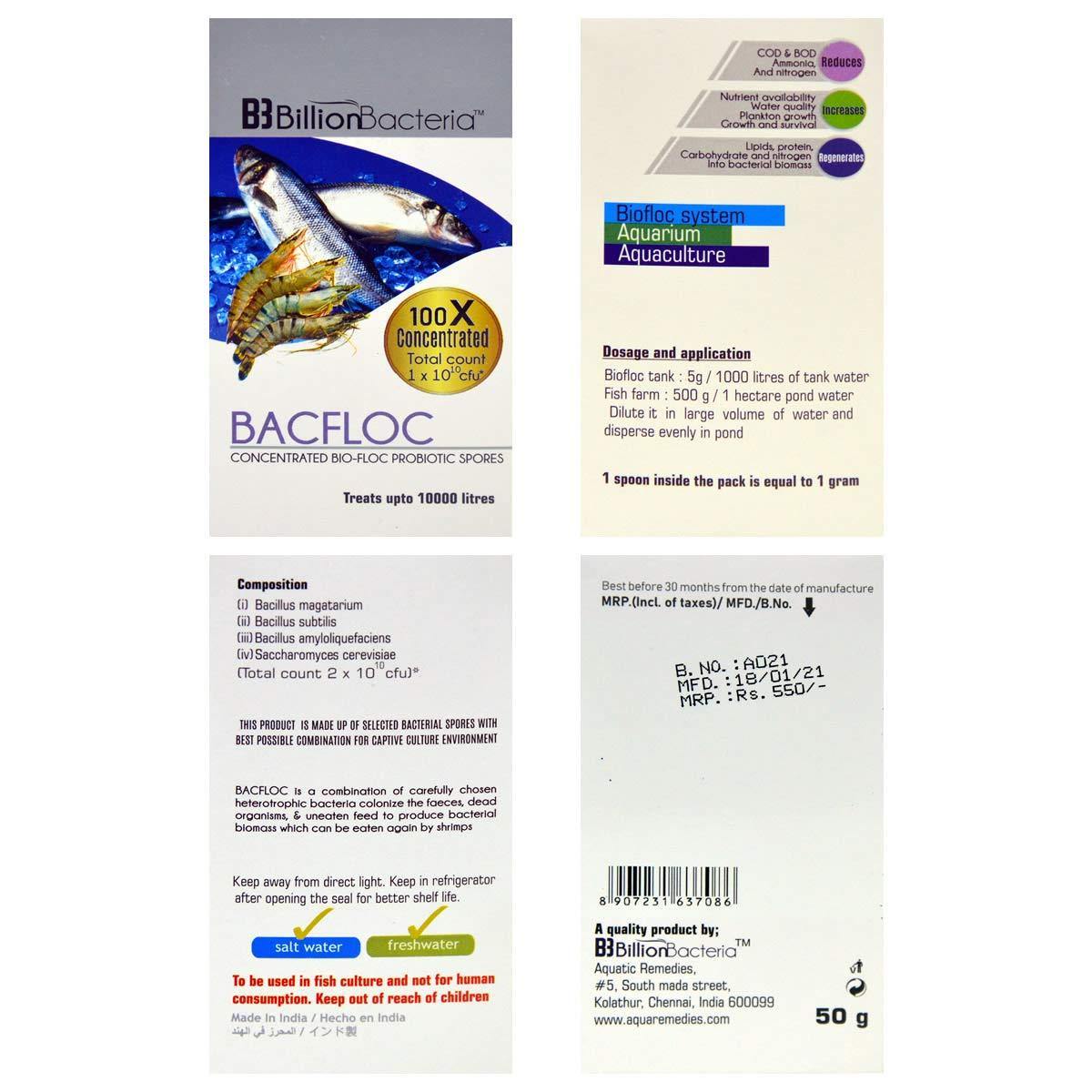 100% Safe & Secure Payments
Authenticity Guaranteed
Fast & Free Shipping All Over India
Description
Product description
Billion Bacteria By Aquatic Remedies Trig Care 50g
TRACE MINERALS. VITNINS. ENURE ACTIVATORS. HERBAL PROPHYLATIVES ANC LACTOBACILLUS DICESTWE BACTERIA FOR Shrimps & Fish - Treats upto 10000 Liters

Composition

Vitamin B12 & Vitamin E
Lactobacillus-sporogenes
Mennen oligosaccharide
Fructose oligosaccharide
Selenium & Amla extract
Sodium citrate & Potassium chloride
Organic chromium & Manganese & Zinc
THIS PRODUCT MADE UP OF SELECTED COMPOUNDS OF VITAMINS, MINERALS, PROBIOTIC AND HERBAL ADDITIVESKeep away from direct light. Keep in refrigerator after opening the seal for better shelf life.To be used in fish culture and not for human consumption. Keep out of reach of children.Enhances
Aid to recover from diseases quickly
Digestion capacity, growth and survival rate
Reduces Stress and disease risk
Dosage and application
Feed application

 

- 2g to 3g/1 kg feed Water application

 

(For Biofloc)

 

5g / 1000 Liters
Application

 

: Mix with 100m1 water for 1 kg of feed on daily basis for 3 continuous days as treatment & weekly once dosage as prevention.
Dosage for Aquarium

 

: Water application 1 g / 200 Liters water
1 spoon inside the pack is equal to 1 gram
---