YEE White Reptile Heat Lamp, UVA UVB Light for Aquarium Turtle Tank, with 50w Basking Bulb and 360° Swivel Clamp Stand for Tortoise, Snake, Frog, Lizard, Cockatoo, Chameleon. Halogen, Yellow Light
Regular price
Rs. 1,299.00
Sale price
Rs. 700.00
Unit price
per
Sale
Sold out
Share
5% OFF For Your First Orders. Use code "FIRST5"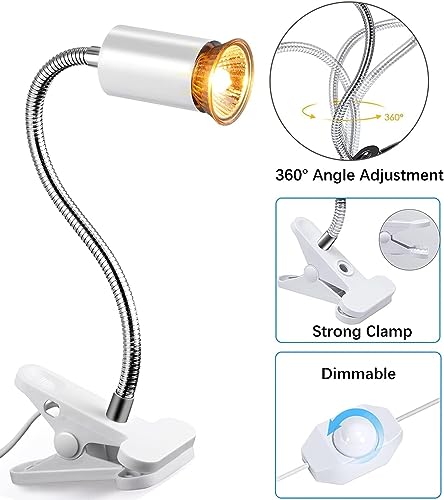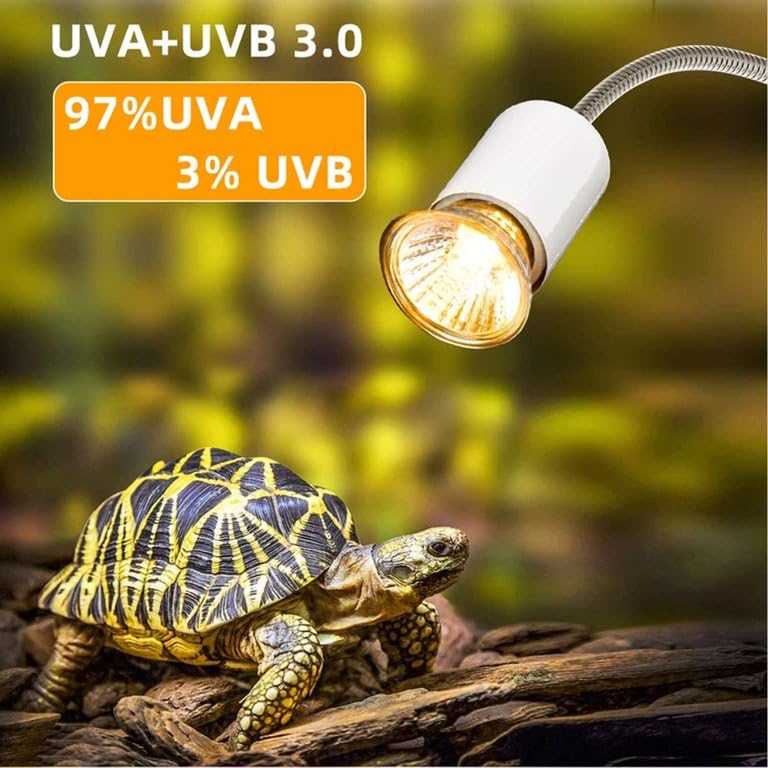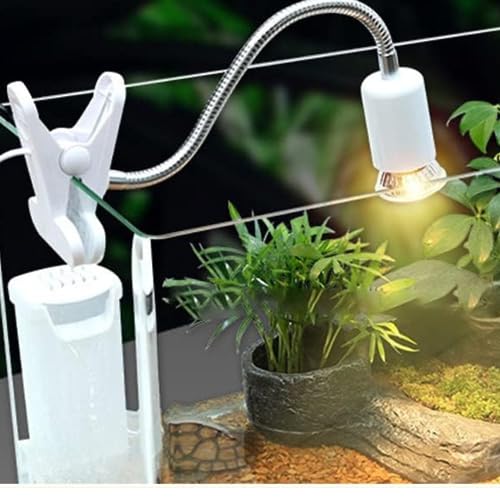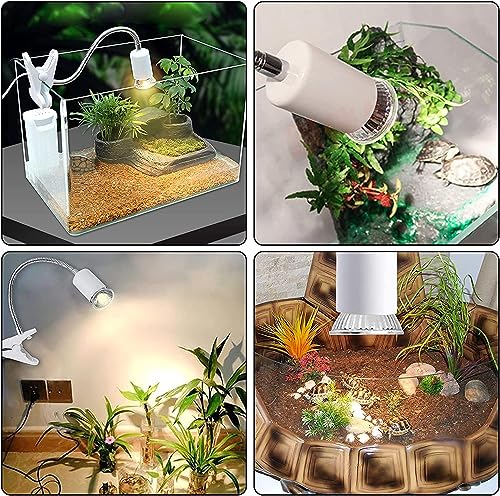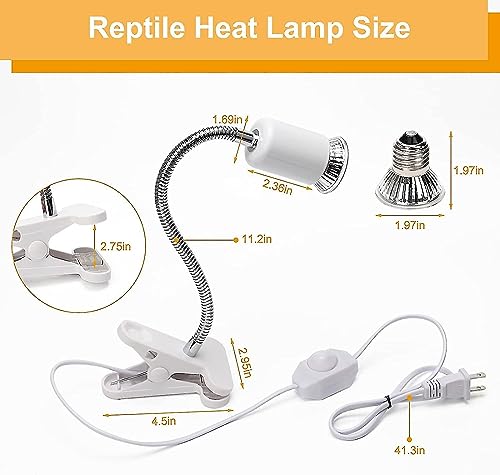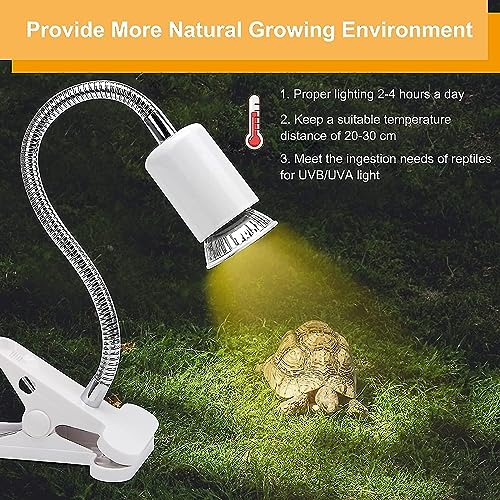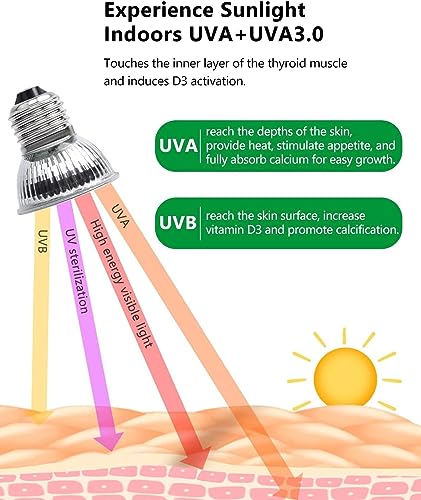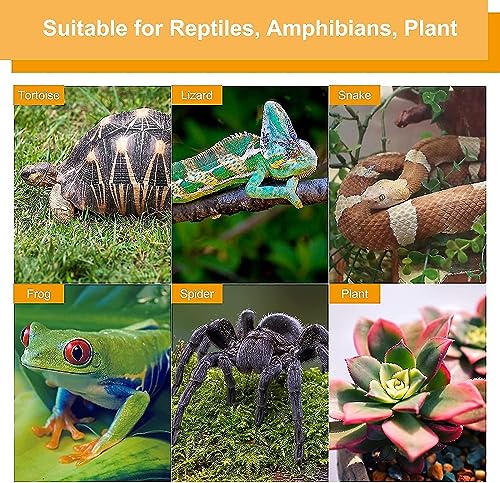 100% Safe & Secure Payments
Authenticity Guaranteed
Fast & Free Shipping All Over India
Description
Reptile Heat Lamp: UVA/UVB reptile heat lamp can simulate sunlight to provide reptiles with daily UV(UVA/B) intake, stimulates growth. UVA can promote appetite, UVB can promote the absorption of calcium in reptiles. 1 50W E27 uv bulbs to simulate UVA/UVB in sunlight. The thermometer can measure the temperature of the aquarium, convenient to adjust the temperature environment created by the heat lamp for the aquarium at any time. Adjustable Temperature Switch: This reptile heating lamp has a temperature adjustment switch, which can adjust the temperature to meet the thermal energy needs of reptiles at different times, and promote their growth. Flexible Goose Neck: The 11.5 inch flexible goose neck can 360 rotatable without deformation, flexible swing arm makes it easy to find the perfect lighting angle, lamp clip can securely clipped onto the glass aquarium. Use Range: Reptile heat lamp is suitable for most reptiles, amphibians, tortoises, lizards, snakes, birds, and plants.
【High Quality UVA UVB Bulb】:We have thickened the tungsten wire, so our reptile heat lamp's lifespan is longer than others, about 3000h. UVA + UVB 3.0 satisfying all your pets need at any circumstances.This heat light bulb also adopts a plating process to make sure anti-oxidation & explosion-proof.
【360° Arbitrary Bending Bracket】:The 11mm diameter metal tube can be 360° bent more than 10,000 times at will, as we add a layer harmless vinyl, which greatly reduces the metal wear rate. Compared with other reptile heat lamp fixture, our tube is more stronger and durable. In addition, there is a durable clamp with 2.78 inch tension, convenient to clip it onto any tank or desk
【Adjustable Temperature】Controllable switch can adjust the brightness and temperature, and the heating lamp head distance also can be adjust according to your needs, meet the needs of reptile at different times. The basking lamp is the optimal choice for all day-active reptiles.
【Widely Used & Compatible】 : The reptile heat bulbnot only used for lighting aquarium fish, but also turtles, tortoise, lizards, snakes, spiders, rabbits, but also for indoor plants, art studios, bedroom, etc., compatible with E26/E27 bulb.
【Your Satisfaction Is Our Priority】: Package include 1*reptile heat lamp fixture, 1*50W reptile heat bulb. We constantly strives to provide the high-quality heat lamp reptile and excellent customer service to achieve our customer satisfaction. If you have any question, please feel free to contact us at any time.